We are offering several types of classes and events for all levels of knitters and crocheters.  Contact us for times and class details by  phone 774-283-4704 , email plymouthharborknits@gmail.com .  All classes must be paid in advance to save a place.
Cape and South Shore Yarn Haul:  September 14-17.
Thursday September 14: Trunk Show with the Felted Bee
Friday September 15: Trunk Show with McKnits
Saturday September 16: Trunk show with Dirty Water Dyeworks
Sunday September 19: Trunk Show with Wool and Bark
Sweater Savy- Tips and Tricks for Better Sweaters
with Shaina Bilow.  Saturday October 7 10:30-1 pm
The best way to learn is through experience, right? It doesn't have to be your own personal experience, though. With more than 20 years' and thousands of sweaters' worth of knitting wisdom, Shaina will share her top tips for ensuring your finished garments will be treasured additions to your wardrobe. Whether you are thinking about casting on for your first sweater, or feeling a bit dissatisfied by previous knits, this class will offer new approaches to pattern reading and sweater planning. Discussions include the importance of gauge, preparing for successful finishing while you knit, and everything in between, with student questions encouraged.
Technique Requirements: knit/purl, cast on/bind off, have knit a few accessories   
$35
This will be a virtual event
Beginner Knitter Level 1: New to knitting or a confident beginner, join us to build or improve your skills in knitting! Next class starting September 20  . Please contact the Plymouth Harbor Knits to reserve your seat. $65 includes materials.
Felted Fox with Jen McCarthy:  Make an adorable felted fox with Jen in this fun class.   Thursday September 21 from 5:30-7:30pm
Building Block Afghan: Join us for the 12 session class designed to extend your knitting skills while creating a beautiful 12′ x 12′ knitted block each month.  At the end, you can join them to create a stunning blanket.   New class starting  September 24 2023
Magic Loop:  Learn to knit almost anything using a 40 or 32″ cable needle. Create an easy baby hat while learning.   Sunday October 1, 1-3 pm
Toe up Socks:  This is a great class for those interested in learning how to make socks!   If you are adventurous, we will teach you how to make 2 at a time!  Starting October 7 2-4 pm
​Beginner Knitting Level 2:
We are excited to be offering a Beginner Level 2!
If you have mastered the knit and purl stitch, join us for the next series which will teach you new stitches while making a sampler scarf. You will learn several techniques each week to help you on your journey to becoming a confident knitter.    New session to be added soon! 
​​​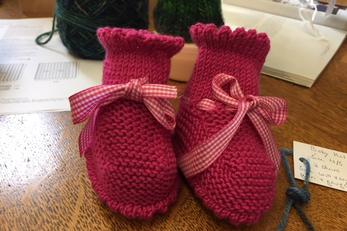 Private Lessons: Contact us to schedule an individual lesson, or a group lesson with your family or friends.​​​
Specialty Workshops and Events:  We will be offering various workshops and events through out the year including trunk shows, spinning, cables, thrummed mitts and short rows!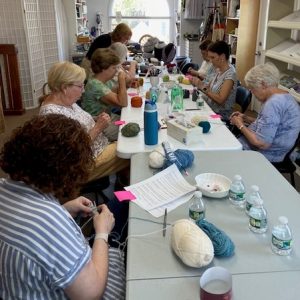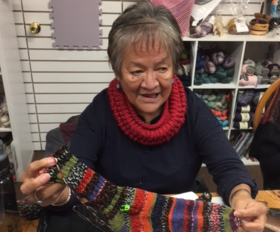 ​