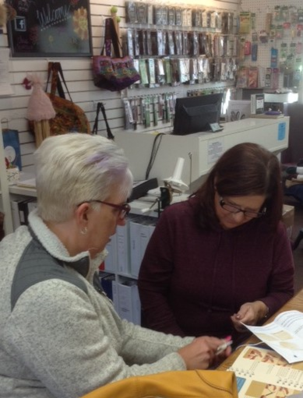 Let's Meet and Learn!
We have several classes scheduled for January and February!
Flawless Finishing with Keith Leonard: Learn the techniques to create a beautifully finished sweater.  This is a virtual event.  February 5, 9-11  $45.  Contact the shop to register
Double Points or Magic Loop?  This workshop will help you explore the 2 techniques for knitting in the round.  Call for next available class $40.
Beginner Crochet!  Yeah!  Learn the basic crochet stitches and how to read a pattern   Call for next available class.
Magic Loop:  Learn this versatile technique while you create a cute baby hat. $35 plus materials. Check back for our next class.
The First Hat:  Make your first hat using circular needles in this 2 session workshop.  Saturday 1/15 and 1/22 1-3 pm. $45. Contact the shop to register
The First Mitten:  Make your first pair of mittens using magic loop or double point needles.  Sunday 1/16 and 1/23 1-3 pm. $ 45
The First Sweater: Ready to take on the first sweater project?  Learn how to read the pattern and create your very first sweater. Saturdays 1/29-2/12 11-1 pm. $60
Socks!  Toe up!  Learn to make a pair of socks from the toe up.  Students must be familiar with working with magic loop or double point needles.   February 13, 20, 27 2-4 pm $65.   Please call to register.
Socks with Lisa using 9″ circular needle:  Learn how to use these 9″ needles to create a pair of socks.  Tuesday 1/18 and 1/25 1-3 pm. $45
Thrummed Mitts:  Make these super warm mittens using thrums.  Sunday 1/30 1-4 pm. $60 includes kit to make 1 pair of mittens.
​​​Beginner Knitter Level 1: New to knitting or a confident beginner, join us to build or improve your skills in knitting! Sunday February 6, 13, 20, 27 from 12-1:30   $ 65  Please call to register
​Beginner Knitting Level 2:
We are excited to be offering a Beginner Level 2!
If you have mastered the knit and purl stitch, join us for the next series which will teach you how to fix your mistakes, read a pattern, work with circular needles among other techniques. Thursdays,  1/13- 2/3 4-5:30 pm. $65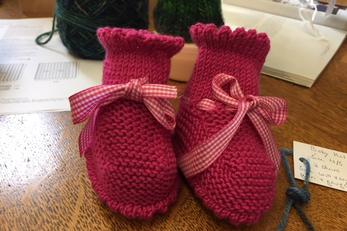 Private Lessons: Contact us to schedule an individual lesson, or a group lesson with your family or friends.​​​
Specialty Workshops and Events:
Made by Hand Closet Event:  Do you have a beautifully hand made sweater that you just don't wear?  Are you looking for a beautiful accessory that is hand made?  Come see these consigned items in the shop February 13-20.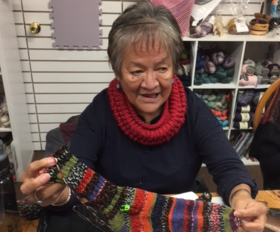 Some classes are not listed.  Please contact the shop to register.