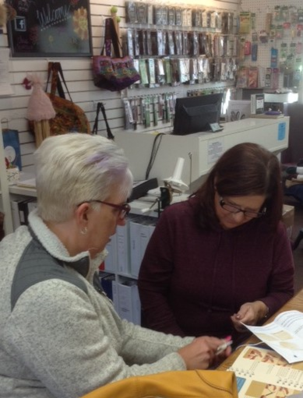 Let's Zoom!
To stay in touch with everyone during the pandemic, we are offering several Zoom meetings:
Tuesday 4-5 pm: Cast on/ Bind off party.  Discussion about all the different ways you can cast on and bind off!
Wednesday 5-6 pm: Social Knit Night.  Share projects, socialize, discuss books, movies, or other forms of entertainment during our quarantine.
Sunday 10-11 am: Casapinka Breathe and Hope Knit along:  Knit along with us as we work on our Breathe and Hope Knit along.  We request that you purchase your yarn for the KAL with us.
Email us if interested in joining.  We will send you a Zoom meeting invite!  If you have other ideas for Zoom meetings, let us know!
Please note:  All in person classes have been postponed until further notice.
We are offering several types of classes for all levels of knitters and crocheters.  Contact us for times and class details by  phone 774-283-4704 , or completing the inquiry form. All classes must be paid in advance to save a place.
​​​Beginner Knitter Level 1: New to knitting or a confident beginner, join us to build or improve your skills in knitting! Next class starts soon. Contact us for the next date and to reserve your seat. $65 includes materials.
​Beginner Knitting Level 2:
We are excited to be offering a Beginner Level 2!
If you have mastered the knit and purl stitch, join us for the next series which will teach you new stitches while making a sampler scarf. You will learn several techniques each week to help you on your journey to becoming a confident knitter. Contact us for the next class date.
​​​Building Block Afghan: Join us for the 12 session class designed to extend your knitting skills while creating a beautiful 12′ x 12′ knitted block each month.  At the end, you can join them to create a stunning blanket. Join us monthly to make your squares!
​Crochet Hour:  Join us to learn or build upon your crochet skills.  Tuesdays by appointment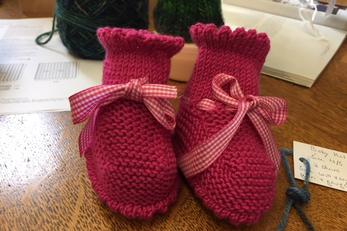 Private Lessons: Contact us to schedule an individual lesson, or a group lesson with your family or friends.​​​
Specialty Workshops and Events:  We will be offering various workshops and events through out the year including trunk shows, spinning, cables, thrummed mitts and short rows! 
Magic Loop:  Learn to knit almost anything using a 40 or 32″ cable needle. Create an easy baby hat while learning.  $25 plus materials. Contact us for the next class date .
Introduction to Double Knitting:
We are very excited to offer an Introduction to Double Knitting Workshop with Alasdair Post-Quinn author of Extreme Double Knitting and Double or Nothing, Reversible Knitting for the Adventurous.
Double knitting is method of making a fabric with no wrong side. This three hour workshop will introduce you to the double knitting technique including a 2 color cast on and guide you to become comfortable with the double knitting technique.
Saturday June 20 from 11-2 pm. $45 for the 3 hour workshop plus materials.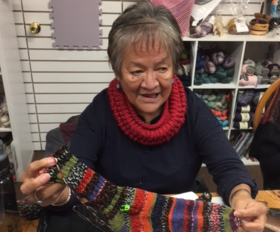 ​Toe Up Socks!
After you learn magic loop, how about toe up socks? This unique technique allows you to make socks that fit! Our next toe up series will begin: Contact us for the next class date.  $25 plus materials.
Yarn Play Pot Luck.
Did you know that we learn through play? Are you curious what would happen if you blend mohair with a DK weight?
What kind of yarn would you get if you mixed 2 dk weights?
Many patterns are now using 2 different yarns and the possibilities are endless.
Come explore and play with sample yarns to learn how they work together. We will supply various yarns for you to experiment with while you make small swatches.
And play makes you hungry, so we will provide and accept any pot luck contributions!
New date to be determined ​$10
​Felted Bee Hive:  Learn the basic of needle felting while creating a felted item in time for the warmer weather
Jennifer McCarthy is your instructor.  Cost is $35 for the 2 hour workshop and kit with all the materials needed.
New date to be determined
COMING SOON!
Plymouth Harbor Knits Shawlette Knit along.  Join us and our designer as we knit our custom designed shawlette using our custom Plymouth Harbor Blues yarn.  Details to follow.
Proceed to PayPal to complete your registration. Paypal account not required.